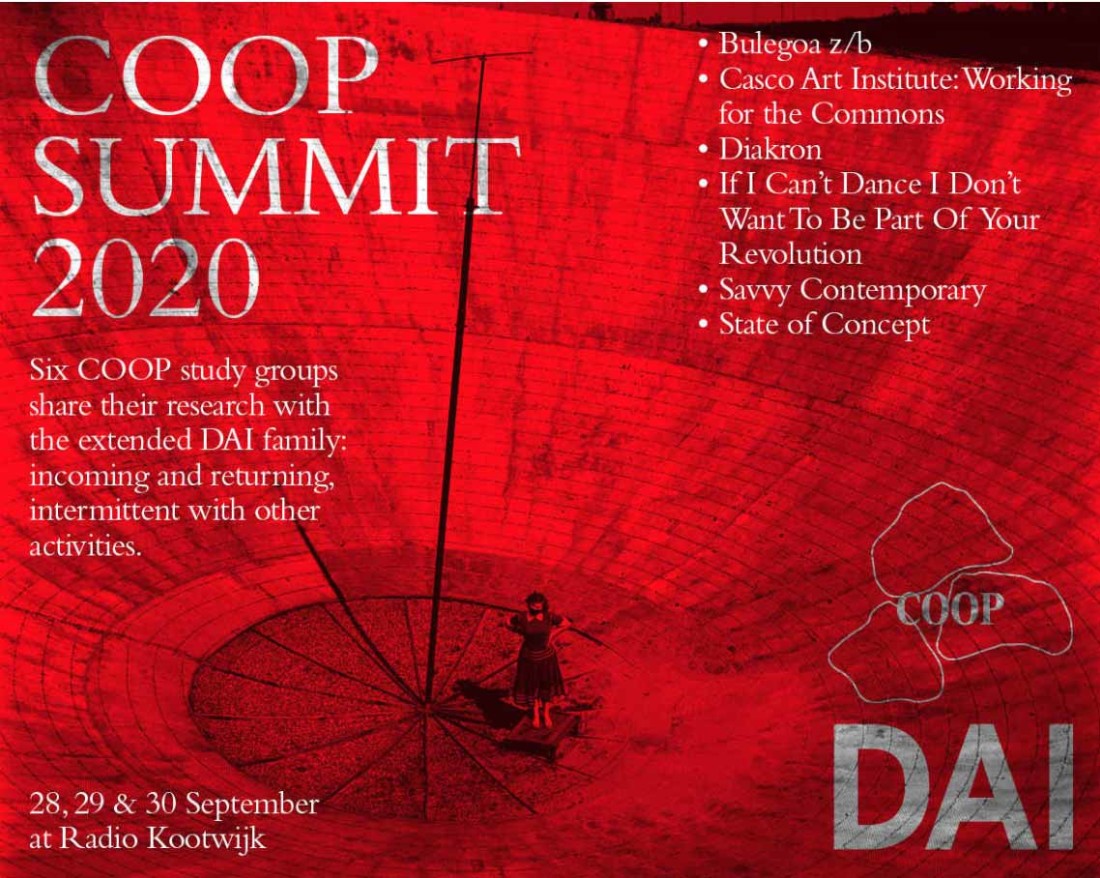 COOP SUMMIT 2020
COOP SUMMIT – Dai Week 09
Curating Positions: Location In Reverse- Care For a Place Through the Cinematic Lens: 
"There is no image, and there is no time. There is only you inhabiting all dimensions"
– http://thereisnoimagethereisnotime.net/
Working with our various proximities, this part-performance, part-audio installation considers the digital place, which we constantly inhabit or in which we are constantly embedded as a necessity of production and communication. With a focus on the limits of liveness, languages, feedback and the enactment of online connection, the "film-less film" is stripped of image-sound hierarchy. This has long been entrenched by the cinematic, and has subsequently aided the privileging of the image in online space. With the image stripped away, can we care for the digital space, and ourselves within it, better? How can we create a non-linear digitality?
This work draws from diffusive chain conversations, made over several weeks, responding to ideas about care for a place while inhabiting the digital space. Engaging with the realities of the working arenas that are predominantly digitised in the pandemic, we are in search of paths between the physical, the digital, and representations of both.
Curating Positions: Location In Reverse- Care For a Place Through the Cinematic Lens / Tutor Team: Marwa Arsanios, Leon Filter, Leire Vergara. Student participants: Sara Benaglia, Maxime Gourdon, Dorothy Hunter, Iva Kovač, Niccolò Masini, Azul De Monte, Zoi Moutsokou, Kari Rosenfelt, Georgia Stellin, Zane Zajančkauska. Partner: Bulegoa z/b
____________________________________________________________________________________
After initial landings in Nieuwvliet, Epen and Tunis, the pandemic forced us to resort to a temporal anchoring online, followed by a series of small scale, provisional dockings per group, in Berlin, Amsterdam and Arnhem.  DAI's soft spaceship now returns to Radio Kootwijk where we hope to wind up a turbulent and at times very difficult but nevertheless prolific year of study by sharing our findings between the different COOPs as well as with incoming students.
Beginning September 28 and lasting for three more consecutive evenings, the Dutch Art Institute a.k.a. DAI Roaming Academy a.k.a. DAI Art Praxis presents COOP SUMMIT 2020: a lighter version of DAI's annual polymorphic event around the outcome of the year-long enquiry by our COOPs: study groups positioned at the heart of the DAI's curriculum. In the academic year 2019-2020, six COOPs, convened by 6 partnering institutions or collectives have called for active participation of both students and tutorial teams in collective and collaborative, imaginative and un-disciplined trajectories.